GTRPO106
GPRS/3G/HSPA based industrial VPN router

---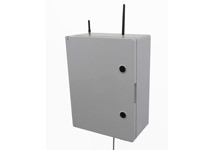 The GTR mobile internet router family is suitable for places like remote locations, weekend houses, service provider points' remote management. It uses mobile internet access to communicate with a central server. Unlike the current SMS or GPRS modules, it allows two-way IPV4 and even IPV6 connection for the connected IP based devices.
Installation is as simple as it gets: connect your device to the router, and it will appear in a few seconds on the web interface. After this, you can set the necessary ports for your device, and the system automatically allocates public IP adresses and ports for it, making sure you can access and manage it from any browser, mobile device, or integrate it into an existing remote management system.
The GTRP and GTRPO model moblie routers are integrated with one or two PingBrother manageable PoE functioning watchdog switches. This gives two external temperature sensors, IP watchdog function and contact relay outlets, allowing to remotely turn any device on/off open a gate, and so on.


IP65 protected outdoor housing
Indoor and outdoor use
WAN connection

Ethernet DHCP
Any ISP's GPRS/3G/HSPA service

LAN-side interfaces

6x 10/100 ethernet ports:
803.af, or 12-48V passive POE devices
802.11b/g/n wifi

Input voltage: 230V/12V 1A wall-mount PS
Passive POE input option (8-28V) on the first ethernet port
Remote access: L2TP protocol
Data throughput max 55000 Fps
IPV6 support
1W 802.11b/g/n integrated radio interface
Mini PCIe 3G inregrated modem

Max upload speed: 2 Mbit/s
Max download speed: 7.2 Mbit/s

External GSM antenna connector: SMA
External Wifi antenna connector: RPSMA
Automatic hardware watchdog with the integrated 3G modem
Number of public ports you can allocate device

50 TCP or UDP port for freen
additional ports on demand for a monthly fee

WEb-based administration page features

Shows device state on/off
Shows routers on a satellite map
Assigning and removing allocated ports
Renaming/removal of devices
Wifi settings
Mobil operator APN settings
remote PoE PSU setting
Watchdog functions

Contact ID input
2x external temperature sensors
E-mail and SMS warning message setting on the webpage

upon set contact IDs
upon set temperature change
---